Warranty Information
CCI provides a two year warranty to the original user: CCI products will be free from defects in materials and workmanship for a period of two years after the date CCI ships such products. If any CCI products are found to be defective in material or workmanship during the applicable warranty period, CCI's entire liability, and Buyer's sole and exclusive remedy, shall be the repair, replacement or return of purchase price as determined in CCI's sole discretion.
CCI shall not be liable for any costs, expenses or damages, whether direct or indirect, associated with the installation, operation, removal or re-installation of any defective product. All shipping and freight costs are the responsibility of the Buyer. CCI's limited warranty shall not be effective or actionable unless Buyer complies with all installation and operating instructions furnished by CCI, or if the products have been modified or altered without the written consent of CCI, or if such products have been subject to accident, misuse, mishandling, tampering, negligence or improper maintenance.
Any warranty claim must be submitted to CCI in writing within the stated warranty period and as soon as such alleged defect is known to Buyer. Warranty repairs are to be performed at CCI's factory with the transportation cost of returning material to be repaired or considered for replacement under warranty to be the obligation of Buyer.
Determining if a Controller is Under Warranty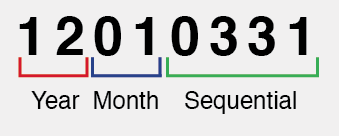 The serial number of your Control Concepts product will indicate its production date. The first two digits represent the year, the next two represent the month, and the last four represent the sequential order in the number of products manufactured that month.
EXAMPLE: 12010331 = The 331st controller produced in January of 2012.
If the product was manufactured less than two years ago, it is still under warranty.